A SUPERIOR LEGAL DEFENSE TEAM
The Simms Firm, PLC is a law firm that prides itself on the fact that the attorneys are former prosecutors that have the ability to provide professional and superior legal services to clients seeking representation. When clients retain the services of The Simms Firm, PLC, they get more than just one attorney; they get a legal team with years of trial experience and extensive legal knowledge.
The Attorneys at The Simms Firm, PLC understand that pending legal matters can be extremely stressful and confusing for clients and their family. This is why the attorneys with The Simms Firm, PLC make it a point to effectively communicate with clients during each and every phase of the legal process and patiently answer any and all questions. The attorneys know that it is essential for us to be accessible and approachable so that our clients are fully aware of the work being done on their behalf. All clients are given full and unobstructed access to their legal team at The Simms Firm, PLC.
The attorneys at The Simms Firm, PLC have experience handling many different legal matters on behalf of our clients. If you have a pending legal matter or questions, please contact The Simms Firm, PLC for your free consultation. Our attorneys can provide you with the answers to your questions and provide you with superior legal representation from an experienced and accessible legal team.
OUR COMMITMENT TO CLIENTS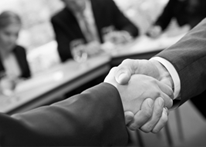 Aggressively pursue the best possible outcome for our clients
Provide our clients with professional and superior legal services
Keep clients informed of the status of their legal matter
Use our skills as former prosecutors to the benefit of our clients
Provide our clients with access to their legal team via telephone/email
CONVENIENT, PROFESSIONAL, AND ACCOMODATING
The Simms Firm, PLC is based in a newly constructed, modern, and state of the art office building in Fairfax, Virginia. Located less than 15 minutes from the nation's capital, our office is conveniently located by the Fairfax County Courthouse and is accessible from interstate 66 and 495. When you enter our office location you will find that our receptionists will greet you with an offer of coffee, tea, or filtered water. We maintain two conference rooms and can accommodate small and large scale meetings. The conference rooms have conference call capabilities, and white boards that can be used to take notes or illustrate legal principals. The parking lot and garage are free of charge and the building also has a deli on the first level.